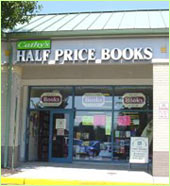 Online orders are
not available for
in-store pickup
Thank You!


Buy Online
Welcome to the Cathy's Half Price Book s Book Portal, where you'll find thousands of our books available for online purchase with fast shipping, solid packaging and customer service that's second to none.
When you enter our store, it will open a new browser window that takes you to our e-commerce site at ABEbooks. When you are finished shopping, simply close the new browser window and you will be back on our website.
Note: Only a small percentage of the books in our store are listed online, so if you can't find a specific book you are looking for, please contact us, or better yet, come into the store where you can browse our entire selection of quality titles to your heart's content!
We Make Reading Affordable!